Launch of New Product/Service (BRONZE)

Client Credits: Koodo
VP Marketing Communications: Lise Doucet
Manager, Brand & Marketing Communications: Chris Stratchuk
Manager, Marketing Communications: Heather Dionne
Head of Koodo: Dan Quick
Agency Credits: Camp Jefferson
Agency: Camp Jefferson
SVP, Managing Partner: Peter Bolt
VP, Director of Client Services: Edith Rosa
VP, Director of Strategy: Doug Potwin
VP, Director of Social & Innovation: Ian Barr
Executive Creative Director: Guybrush Taylor
Associate Creative Director: Chris Obergfell
Art Director: Matthew Kenney
Copywriter: Frederick Nduna, Stefan Wegner, Adam Notzl-Keyser
Strategist: Laura Muirhead
Agency Producer: Sarah Moen
Account Supervisor: Melanie Abbott
Account Executive: Sabrina Zavarise
Creative Developer: Peerum You
Media: Cossette Media
French Agency: K-72
General Manager: Benoit Bessette
Writer: Joshua Lessard
Account Services: Carl Dessureault
Production Company: Skin & Bones
Director: Matt Swanson
Line Producer: Andrew Graham
DOP: Tico Paoulakakis
Editorial House: Saints Editorial
Editor: Griff Henderson
Transfer Facility: Alter Ego
Colourist: Wade Odlum
Online Facility: Fort York
Online Artist: Mike Bishop
Audio: Grayson Matthews
Section I — CASE PARAMETERS
| | |
| --- | --- |
| Business Results Period (Consecutive Months): | August 1, 2016- June 30, 2017 |
| Start of Advertising/Communication Effort: | August 4, 2016 |
| Base Period as a Benchmark: | August 1, 2015- June 30, 2016 |
| Geographic Area: | Canada |
| Budget for this effort: | $4 – $5 million |
Section IA — CASE OVERVIEW
Why should this case win in the category (ies) you have entered?
We took a relatively "me too" feature and turned it into a compelling campaign that allowed us to acquire 74% more new customers than we had the same period year prior. Along the way, relieving a serious pain point for data crazy, cost conscious millennials and establishing Koodo as a fairer, more transparent alternative than the other telcos.
Section II — THE CLIENT's BUSINESS ISSUES/OPPORTUNITIES
a) Describe the Client's business, competition and relevant history:
A country that can't get enough data
The urban myth is that Canada runs on donuts and double-doubles. The reality is, this amazing country of ours runs on data! That's right, good 'ol wireless data. Canadians spent $11.9 billion on it in 2016, an increase of 10.7% vs. the previous year and a prediction that it will continue to climb to a tune of $16.7 billion by 2021 – that's a 40 per cent increase from 2016.[1]
As our nation's love for data grows, so does the price we pay for it. In fact, in the last year alone Rogers has increased the costs of data overages for 1GB by 40%.[2] An important fact, given that almost half of Canadians (46%) have had to pay extra fees for exceeding their monthly date limits.[3]
The reality is, nobody feels this more than Koodo's core demographic, millennials. They're the driving force of this growth and view data as their lifeline. It's the reason they're constantly checking their monthly usage – out of fear of getting charged jaw-dropping overage fees.
b) Describe the Client's Business Issues/Opportunities to be addressed by the campaign:
A sea of same data management services
Amidst all of the market tensions around paying more for data and getting dinged with excessive fees, the category offered limited tools to keep the CRTC governing body at bay and calm their customer base. The suite of services ranged from data usage alerts to various other prompts that encouraged people to top up their packages as they ventured dangerously close to going over.
A small step forward in need of a differentiating idea
Koodo like others within the category had these basic data management utilities but had developed an additional feature that allowed customers to pause their data. Our challenge was to take this seemingly same service enhancement and turn it into a compelling reason for data crazy, cost conscious millennials to choose Koodo.
c) Resulting Business Objectives: Include how these will be measured:
Despite being limited by the news value of the new feature, we set out to target those directly affected by data overages and convince them to switch.
Specifically, our goal was to;
Acquire 15% more net new customers than the same period year prior.[4]

[1] http://www.idc.com/getdoc.jsp?containerId=CA41246217
[2] Mobile Syrup, Rogers Increases Data Overage Rate, July 5th 2017
[3] http://business.financialpost.com/technology/nearly-half-of-canadians-charged-for-exceeding-wireless-data-limits-last-year-crtc-survey/wcm/c784a4ea-2c9e-4d26-9fc0-5e9c4d9f65b8
[4] Koodo proprietary weekly sales data.
Section III — YOUR STRATEGIC THINKING
a) What new learnings/insights did you uncover?
A painful, relatable issue for many Canadians
After understanding the basics of what the tool provided, we moved on to how best to position it.  That process started with understanding how Canadians really felt about data overage charges and why they felt it. That meant tapping into their "in the moment" feelings.  Social listening research revealed horror stories of Canadians from coast to coast opening up their monthly smartphone bills and being floored with overage charges either from careless roaming, obsessive streaming or simple ignorance.



That relatable "WTF?" moment…
While the catalysts for data overage charges differ, we found what most Canadians had in common was that angst of opening their invoice and experiencing the "WTF?" moment. It's that moment when they open their monthly statement, glance at the total amount due and blurt out "WTF?!?!?!" It's typically followed by high blood pressure and feelings of rage that evolve to anxiety. It's one part panic attack, mixed with one part wireless rage.
Putting fuel on the fire
Adding fuel to the fire by shining a further spotlight on the issue were the media who highlighted stories of extreme "WTF!" moments where customers were unknowingly being charged thousands of dollars in overage fees. And the ensuing battles they had with carriers to rectify them.
b) What was your Big Idea?
Shock-Free Data. Surprise-free Bill. 
For the millions of Canadians looking for a consistent, predictable bill, this idea repositioned Shock-Free Data as the answer to scary phone bills and the costly data overages plaguing mobile users – both with Koodo and with our competitors.
c) How did your Communication strategy evolve?
Expecting more expected
Our communication strategy was rooted in bringing more certainty to the world of data charges and doing it in a way that only the Koodo brand could.  For our budget conscious millennial target, unexpected overages forced them to compromise. Ultimately, this meant unwanted sacrifice in some other aspect of their life. What they wanted and what they needed most was cost certainty to avoid nasty bill surprises. Unfortunately, the current state of data and data charges offered anything but.
d) How did you anticipate the communication would achieve the Business Objectives?
The fair and transparent alternative
We anticipated communication would ultimately help us achieve our business objective of acquiring new customers by planting seeds of doubt about their current carrier's ability to protect them and positioning Koodo as a fairer, more transparent alternative when it came to the pain point of data charges.
Section IV — THE WORK
a) How, where and when did you execute it?
The core executional element of the Unscary Bill campaign was recreating those iconic moments in horror films where unsuspecting victims are blissfully unaware they were about to get offed.  Rather than be surprised and ambushed by a bloodthirsty killer, we inserted a harmless bill courtesy of Shock-Free Data from Koodo.
This approach lent itself extremely well to video, so that became the lead canvas for the campaign. To amplify its affect, we focused on delivering our message in environments where suspense and anticipation were most often felt; in cinema and online pre-roll before watching videos.



c) Media Plan Summary
–       :15 TV
–       :30 Cinema
–       :30 Radio
–       Digital display advertising
–       OOH
–       Social
–       Paid Search
Section V — THE RESULTS
a) How did the work impact attitudes and behaviour?
The latest brand tracking research, which captures associations of "transparency in pricing", are nothing short of astonishing.  As the chart below illustrates, Koodo has the highest association of any of the 4 competitive brands tracked on this metric, 22pts over Bell and 11pts over the other major value player in the category Fido.[5]

b) What Business Results did the work achieve for the client?
These gains in perceptions of Koodo as a brand with transparent pricing did not go unrealized.  As stated, our goal was to acquire 15% more net new customers than the same period year prior.[6]  We achieved a 74% increase in new customers acquired over this comparative period, which equates to achieving 151% of our target. 
c) Other Pertinent Results
All of the pertinent results are covered within the confines of this case.
d) What was the campaign's Return on Investment?
Koodo does not publicize specific number of new subscriptions or the lifetime value of customers, so ROI calculations are impossible to make.
[5] Koodo quarterly brand tracker, "Is transparent in pricing" brand associations, August 2017
[6] Koodo proprietary weekly sales data.
Section VI — Proof of Campaign Effectiveness
a) Illustrate the direct cause and effect between the campaign and the results
The best tangible evidence that illustrates the Unscary Bill campaign was the driving force behind our business results is shown in our ad testing. While competitive norms were unavailable, the video executions within the campaign exceeded our historical benchmarks on every single one of our brand measures including overall brand impression, relevance, purchase intent and call to action.[7]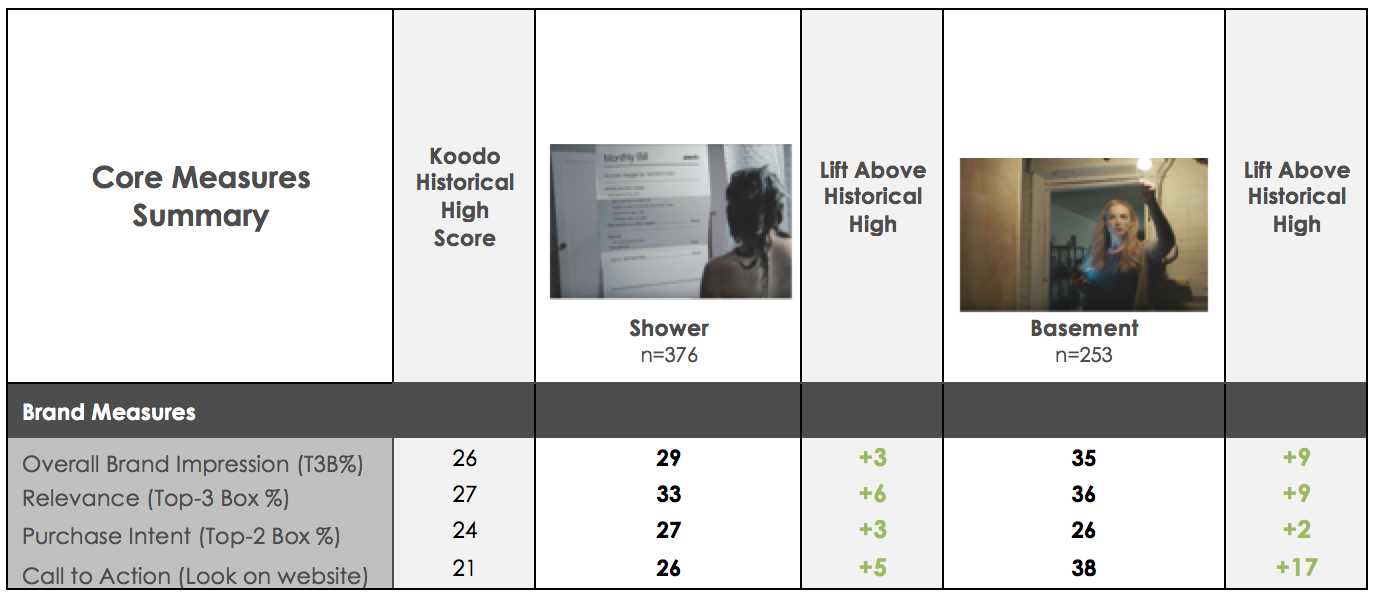 b) Prove the results were not driven by other factors
Campaign spend vs. history and competition:
Koodo's overall marketing budget was flat from the base benchmarking period to the case period.  For context, in 2016 Koodo was outspent by Rogers 3:1 and by Bell 4:1, so it is clearly at a competitive disadvantage.[8]
Pre-existing Brand momentum:
Koodo had not experienced any massive sales leaps leading into the business results period in question.
Pricing:
Pricing among the value providers in the mobile industry is often at parity.  When one carrier changes it's pricing, the others quickly follow suit. This was the case during both the base benchmarking period and the case periods.
Changes in Distribution/Availability:
There was minimal to no changes to distribution during the case period with Koodo's branded store count rising by merely a few and no new major 3rd party retailers being signed on as partners.
Unusual Promotional Activity:
The wireless category is extremely competitive and aggressive promotion activity is the norm.  This was the case for all carriers, including Koodo during the case period.
Any other factors:
None.
[7] Koodo quarterly advertising effectiveness testing, August 2017.
[8] AC Nielson Competitive Spending, 2016