Limited Resources (SILVER)

Client Credits: Children's Wish Foundation
Children's Wish Foundation
Agency Credits: Mosaic Sales Solutions
Group Creative Director, Jess Willis, Mosaic
Copywriter, Nick Dooley, Mosaic
Account Director, Ashleigh Millar, Mosaic
Senior Account Manager, Brian Flaman, Mosaic
Director, Duane Crichton, Nomad Republic
Editor, Christina Humphries, Rooster
Assistant Editor, Brett Rostrup, Rooster
Post Production, Fort York
Music and Sound, Apollo Studios
Section I — CASE PARAMETERS
| | |
| --- | --- |
| Business Results Period (Consecutive Months): | June 1-July 1 |
| Start of Advertising/Communication Effort: | June 1 |
| Base Period as a Benchmark: | TBD |
| Geographic Area: | National |
| Budget for this effort: | $0 – $50,000 |
Section IA — CASE OVERVIEW
Why should this case win in the category (ies) you have entered?
Children's Wish Foundation of Canada is the largest and only all-Canadian charity dedicated to granting wishes to Canadian children between the ages of 3 and 17 who are diagnosed with a life-threatening illness. For more than 30 years, Children's Wish has worked tirelessly to grant heartfelt wishes to nearly 25,000 children and their families.
The foundation has an objective of granting 1,000 children's wishes annually, but in order to make this possible, Children's Wish relies largely on donations from individuals and corporations professional stewardship to ensure every child's wish is as unique as they are.
To help them achieve even further business and funding objectives, Mosaic worked with Children's Wish to build a strategy around "one big wish" per year that could be leveraged to generate awareness and increase donations to help the funding of future wishes.
Through an online and influencer strategy that tapped the sheer power of social networks, we not only granted Olivia's wish to be famous, but took online donations from a place of negative year-over-year decline back to positive growth – all with zero funds provided by the agency or client.
Section II — THE CLIENT's BUSINESS ISSUES/OPPORTUNITIES
a) Describe the Client's business, competition and relevant history:
Often confused with the much bigger and more profitable Make-A-Wish Foundation, Children's Wish faced a consistent struggle with awareness, penetration and thus, donations. Combine that with the fact that all funds are utilized to fulfill wishes versus make advertising campaigns, it's no wonder market share was flat year-over-year.
b) Describe the Client's Business Issues/Opportunities to be addressed by the campaign:
The first priority of wish granting is to celebrate the life and new-found health of our wish kids. However, we felt that the wish could also help Children's Wish from a business perspective. The Foundation was experiencing a decline in total number of donations (-22%) as well as overall dollar value (-4%) versus the prior year. The opportunity for growth to stop this decline needed to be found in increasing awareness of the brand by connecting to the general public and build an online community to grow their donations pool. Our goal was to work with Children's Wish to help create a multi-pronged strategy for wish granting that would celebrate the lives of incredible wish kids in combination with stopping the decline in year-over-year donations.
c) Resulting Business Objectives: Include how these will be measured:
The key measures of success were to grow the online community by %400, increase web traffic by 50% to help build a CRM pipeline for the donation team to leverage to increase total number of donations. No donation increase goal was set as this was to be measured the following year.
Section III — YOUR STRATEGIC THINKING
a) What new learnings/insights did you uncover?
After searching for a child with the perfect wish for us to support, Children's Wish introduced us to Olivia, a nine year old girl and avid competitive dancer. Diagnosed with Wilms tumor at the age of 2, Livi's lost a kidney, but now is in remission. While her original wish was a shopping spree, we knew we could do better. After a series of meetings with Olivia and her family we learned very quickly that this little girl was full of personality. She spent all of her free time dancing; free of hospital beds, tubes and machines. This was the heart behind her wish. It was during this discussion that we discovered that deep down inside Olivia's passion for dance was also a wish to be famous.
b) What was your Big Idea?
You're not famous unless you break the Internet.Followers, likes and shares are what separate those who trend from those who don't.Influenced by the Dab and Harlem Shake,we created a dance move for our wish kid and with the help of the WorldWide Web turn it into a movement.#DoTheLivi was born.
c) How did your Communication strategy evolve?
Laser-focusing our sights on the dance community, we chose choreographer Blake McGrath of So You Think You Can Dance to take the lead. Together, he and Olivia created her signature dance move inspired by her unwavering optimism and bravery in the face of cancer.  
To gain traction we tapped our influencer network. Leveraging local and international celebs, dance superstars like Maddie Zeigler posted videos, encouraging their millions of followers to #DoTheLivi too.
On the cusp of being famous, we needed one more attention-grabbing headline, so we partnered with Much Music and premiered her dance move live on the MMVAs. With millions watching at home and online, #DoTheLivi took off instantly.
Within hours it was one of the most trending hashtags as Instagram, Twitter and Musical.ly feeds were inundated with videos of replicating her move. Even some Storm Troopers from LA got in on the action, along with a shout out from Canada's Prime Minister, Justin Trudeau.
From appearances on local and nationally syndicated news programs and morning shows to dancing in game with the Toronto Raptors, there was no doubt her wish to be famous was granted.
To top it all off, she was given the MMVA award for Best Viral Dance Move – a feat Drake and the Biebs have yet to accomplish.
d) How did you anticipate the communication would achieve the Business Objectives?
We created a movement that allowed people to experience the same freedom that Olivia now feels, inspiring the world to celebrate the everyday. The content was designed to give Olivia and her family the opportunity to tell her story. From overcoming her illness to the creation of her own signature dance move, what this meant to her and what it should mean to others. Her infectious personality challenges others to #DoTheLivi helping celebrate her bright future and raise awareness for Children's Wish. Not only did it come with a heart-felt message it allowed friends, family and colleagues to challenge one another to share their own version of #DoTheLivi online. It gave people a sense of being part of something bigger, part of a community.
Section IV — THE WORK
a) How, where and when did you execute it?
The power of the people fueled our go to market approach starting with a foundation of celebrity influencers within the dance community to build the ground swell. As the move began to grow organically, we executed with our second wave of influencers like the Toronto Blue Jays and Much Music to help us reach a broader audience. We reached national awareness when Olivia and her move was showcased on the red carpet of the iHeart Radio MMVAs. From there #DoTheLivi went from national to global.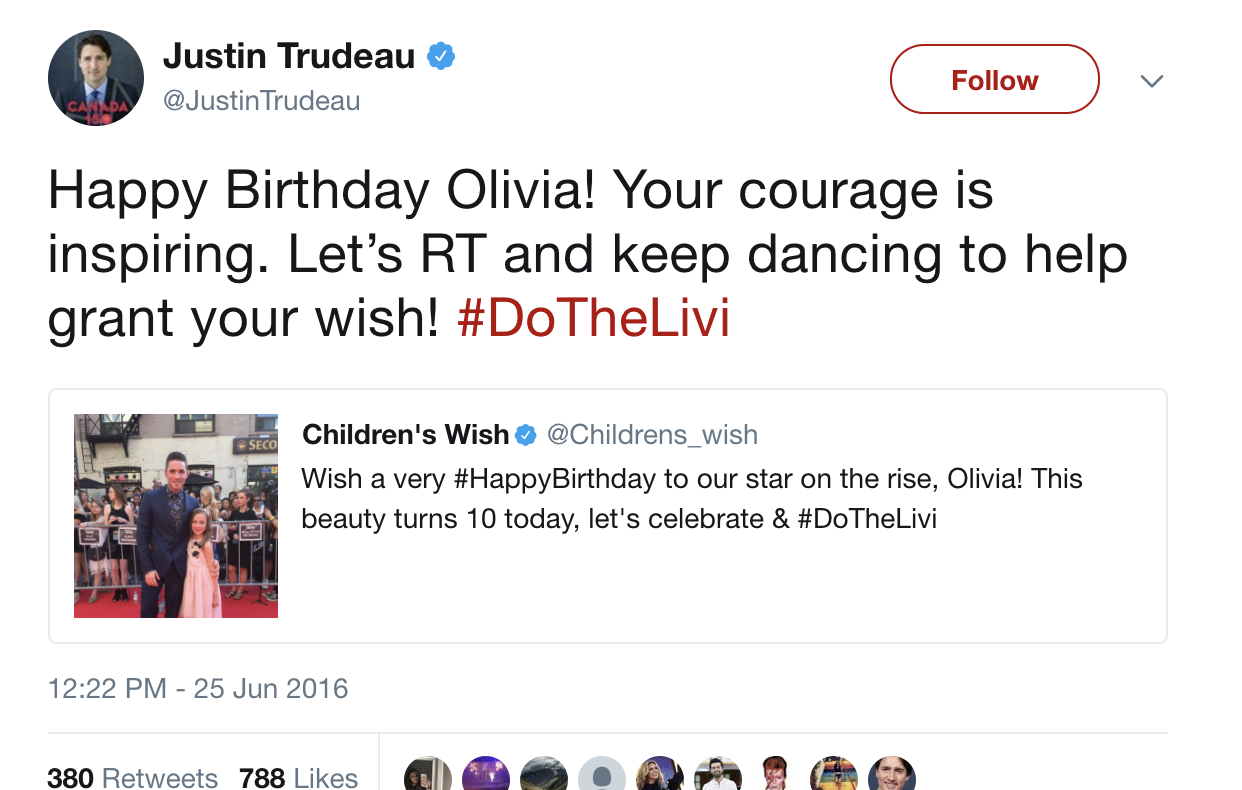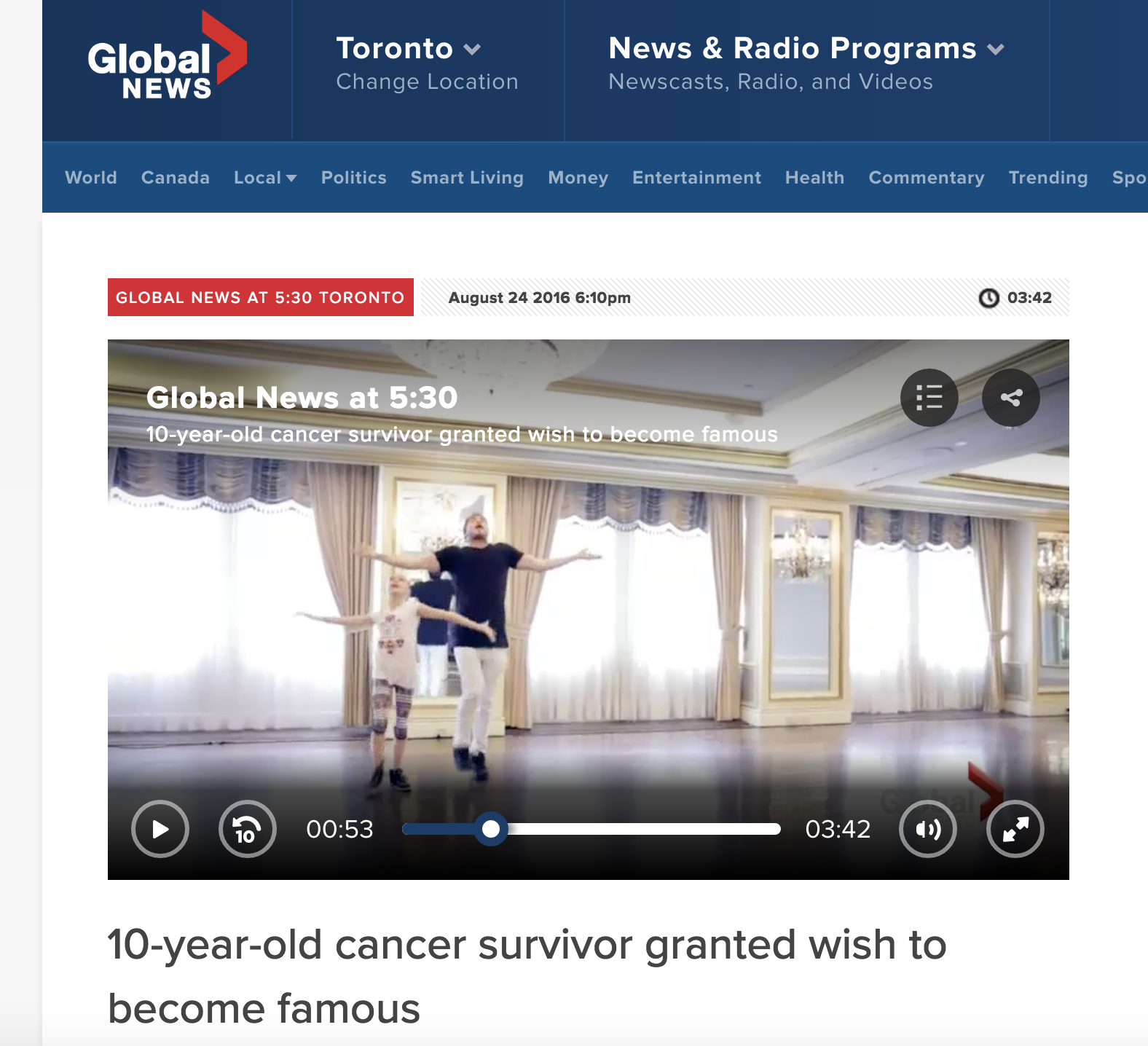 c) Media Plan Summary
Not applicable – there was no paid media activity that supported the amplification of this campaign idea.
Section V — THE RESULTS
a) How did the work impact attitudes and behaviour?
Within hours of her performance on the MMVAs, #DoTheLivi was trending nationally. In mere days, impressions grew to over 87 million. And with new social media platforms like Musical.ly, Olivia's move was re-created and posted over 52,000 times with hundreds of thousands of people supporting her across the globe.
b) What Business Results did the work achieve for the client?
Combine that with an over 600% increase in followers on the brand's social handles, Children's Wish was finally able to step out of the shadows of a US giant and increase the pool of potential donors tenfold.
The results of #DoTheLivi was beyond what both Olivia and her family as well as Children's Wish expected. Not only did Olivia become famous, her story spread globally reaching people across all continents.
By the numbers:
87.2MM Earned, unfunded impressions

Facebook – 200k
Twitter – 81MM
Instagram – 6MM
During the campaign, the Children's Wish website saw a 275% in traffic (During campaign: 64,855 visits vs 23,541 visits in 2015) and as a result online donations across the board saw significant increase vs year ago:
General Donors were up by 51%
General Online Donations up by 32%
Corporate Online Donations up by +52%
c) Other Pertinent Results
A supporting Direct Mail campaign that deployed post campaign helped continue the momentum raising $111.4k, +$18k and +119% above plan.
d) What was the campaign's Return on Investment?
N/A. There was no money invested in this campaign.
Section VI — Proof of Campaign Effectiveness
a) Illustrate the direct cause and effect between the campaign and the results
The increase in all measures happened during and immediately following the campaign window June-July 2016. No other activity was executed by Chidlren's Wish before, during or after the campaign timeframe.
b) Prove the results were not driven by other factors
Campaign spend vs. history and competition:
Given there is no media budget for Children's Wish and no other wishes were granted during this time, all business results can be directly attributed to the #DoTheLivi campaign.
Pre-existing Brand momentum:
n/a
Pricing:
n/a
Changes in Distribution/Availability:
n/a
Unusual Promotional Activity:
n/a
Any other factors:
n/a