Canadian Success on the Global Stage (GOLD)
Strategic Thinking (SILVER)

Client Credits: Procter & Gamble
Procter & Gamble/Gain
Brand Director NA FC Delivery: Vedran Miletic
Associate Brand Director NA FC Delivery: Carolina Rogoll
Brand Management BBIC NA FC: Alison Tidwell
Agency Credits: Leo Burnett
Leo Burnett, Toronto
Chief Creative Officer: Judy John
Creative Director: Heather Chambers
Copywriter: Dave Barber
Art Director: Jason Lee
Agency Producer: Julie Caniglia
Agency Producer: Sabrina De Luca
Vice President Business Lead: Gavin Bayley
Account Supervisor: Tina Obersnel
Account Executive: Abi Berkley
Chief Strategy Officer: Brent Nelsen
Senior Strategic Planner: Mike Coulson
Media Agency: Hearts & Science
PR Agency: MMK
Section I — CASE PARAMETERS
| | |
| --- | --- |
| Business Results Period (Consecutive Months): | June 2016 – August 2016 |
| Start of Advertising/Communication Effort: | June 2016 |
| Base Period as a Benchmark: | June 2015 – August 2015 |
| Geographic Area: | USA |
| Budget for this effort: | Over $5 million |
Section IA — CASE OVERVIEW
Why should this case win in the category (ies) you have entered?
In order to drive an immediate sales increase in the USA of Gain flings!™, we stepped outside category communication conventions, which resulted in average sales growth of 192 index vs. previous year (IYA) compared to 155 IYA for the entire single-unit dose (SUD) category.
Key to our success was elevating the scent of Gain into the world of perfume, which produced the highest Nielsen IAG results in Gain's history and exceeded all total P&G; fabric-care norms.
Section II — THE CLIENT's BUSINESS ISSUES/OPPORTUNITIES
a) Describe the Client's business, competition and relevant history:
Sales of Gain laundry detergent through its irresistible scent had been trending upwards for about 20 years. It all started in the south with a low-cost powdered detergent and had recently achieved a wide enough distribution to be considered a real nationwide brand. Contributing to this milestone was the launch of Gain flings!™ two years prior. It was Gain's best smelling and best cleaning laundry detergent ever and the brands first single-unit-dose laundry detergent, a new form of detergent originally launched by Tide in 2012.
Unfortunately, brand growth was hitting a plateau. The powder category was in decline and liquid detergent was flat. If sales of Gain flings!™ didn't increase over the previous year, then the total brand wouldn't continue growing. That was simply not an option.
b) Describe the Client's Business Issues/Opportunities to be addressed by the campaign:
With the business at an all-time high, new team members, and intense pressure to continue growing the brand – our clients agreed to regroup. We collaborated on the following:
Business and category context review.
Quantitative research – a study of scent-seekers (those who liked a lot of scent in laundry), who do not purchase based on price, and were aware of Gain but have not bought it.
In-depth home interviews with scent-seekers in Atlanta.
We revealed three issues in the way of growth:
Scent was becoming increasingly commoditized.

Go to Walmart.com today and you'll see over 500 laundry detergent SKUs[1] from 20 different brands, in several formats, and with repetitive use of colour and language to merchandise scents – like blue for "ocean breeze," purple for "lavender," and orange for "tropical mist" – it's an overwhelming sea of same.

Even "scent-seekers" didn't think Gain was any better

Despite 20 years of building equity in scent, Gain still wasn't seen as the scent leader in laundry. 55% of scent-seekers (those who enjoy a lot of scent in laundry) didn't believe our scent was any better, and 79.5% of them claimed to be satisfied with their current scent[2]. In fact, Brand preference amongst scent-seekers shows Gain at only 13% vs. Tide at 25%. Even Arm & Hammer – Arm & Hammer! – was stealing share at 10%[3].

Despite being priced at parity with Tide, we were a far cry from being a true #2 player in laundry.

The laundry category was unusual compared to other equally large consumer goods categories. As the chart below demonstrates, typically, the #1 and #2 players are neck and neck along the purchase funnel, but Tide clearly dominated people's minds and wallets[4]
We knew we couldn't compete on clean. Tide owned it so why not just buy Tide at the same price? We knew we had to double-down our efforts on differentiating the scent with the goal of being one of two brands at the top of laundry. Gain as the #1 scent brand and Tide as the #1 cleaning brand.
Our opportunity:
Differentiate the scent of Gain in a cleaning category to drive sales of the best smelling and most expensive Gain detergent, Gain flings!™.
c) Resulting Business Objectives: Include how these will be measured:
We established the following objectives for the first three months in market:
Increase dollar sales of Gain flings!™ by 125 index vs. previous year (IYA) with positive ROI
Outpace growth of the total laundry category
Develop the best performing creative in Gain's history as measured by a Nielsen IAG brand memorability score in excess of 29% fabric care norm. Nielsen IAG is fabric care's standard for correlating ad performance to sales.
[1] Walmart.com – Includes all liquids, pacs & tablets, and powder laundry detergent SKUs
[2] Agency Survey. Non-Gain users, scent seekers, female, does not purchase on price, 25-54. n=500
[3] Nielsen Answers. Laundry Care. August 31, 2016
[4] Ipsos Brand Health Tracker Monthly Report
Section III — YOUR STRATEGIC THINKING
a) What new learnings/insights did you uncover?
Insight: When it comes to laundry, scent is nothing more than a signal of clean.
Quantitative research revealed that 99% of scent-seekers enjoyed scent in their life because it brought them happiness[5] but in-home ethnographic research taught us that other products – scented candles, moisturizers and perfumes/colognes – were getting all the credit. These products got credit for bringing happiness to everyday life while laundry scent was nothing more than the proof of a chore completed.
As this became clear, so did then reason that people thought our scent was the same as the rest. After all, their current scent smelled clean so what would be the point of paying more for another laundry smell?
We knew that in order to differentiate the scent of Gain and become the #1 scent brand in laundry, we needed a paradigm shift.
We needed to elevate the scent of Gain in to the same world as the other scents in her life. Like perfume.
b) What was your Big Idea?
Introducing Gain by Gain. The seriously good scent.
c) How did your Communication strategy evolve?
By behaving like a perfume brand, we could get credit for being a desirable, craveable, high-quality brand like the other scents and scent brands in her life. If Gain's scent was good enough to be a perfume then it must be good enough as a laundry scent.
We chose perfume because:
a)     People love perfume. It is a 6.15-billion-dollar industry in the U.S.[6], and 46% of designer perfume brands are priced at over $75[6].
b)    Many of the same fragrance designers working on luxury perfumes also develop the scents for laundry detergents.
The only problem was that the perfume industry was very serious and dramatic. Although we believed that the scent of Gain belonged in this world, we needed be true to the brand's character, which had defined the brand for the past 20 years – a playful spirit who finds the fun in everything.
So, we made a parody. Our way of proving we take our scent, just not ourselves, seriously.
d) How did you anticipate the communication would achieve the Business Objectives?
We knew that elevating the scent of Gain into the world of perfume would differentiate the brand from the commoditization of laundry scent while also asserting our superiority as the most premium, best scent in laundry for scent-seeking consumers. If we could accomplish this, we could overcome the price-parity barrier with category leader, Tide.
[5] Agency Survey. Non-Gain users, scent-seekers, female, does not purchase on price, 25-54. n=500
[6] NPD Group. August 5, 2016. http://www.statisticbrain.com/perfume-industry-statistics/

Section IV — THE WORK
a) How, where and when did you execute it?
Mass awareness: Since 44% of primary household shoppers are laundry scent-seekers5, we prioritized reach and frequency on TV and OLV. "Time to Heal" ran on both while "Gain by Gain" ran exclusively on OLV.
Proximity: To mimic perfume advertising and distinctively reposition Gain from laundry, we used mediums like print in fashion magazines, billboards in dense urban areas, celebrity GIFs in social and promoted tweets from A-listers who embody a perfume's luxury.
c) Media Plan Summary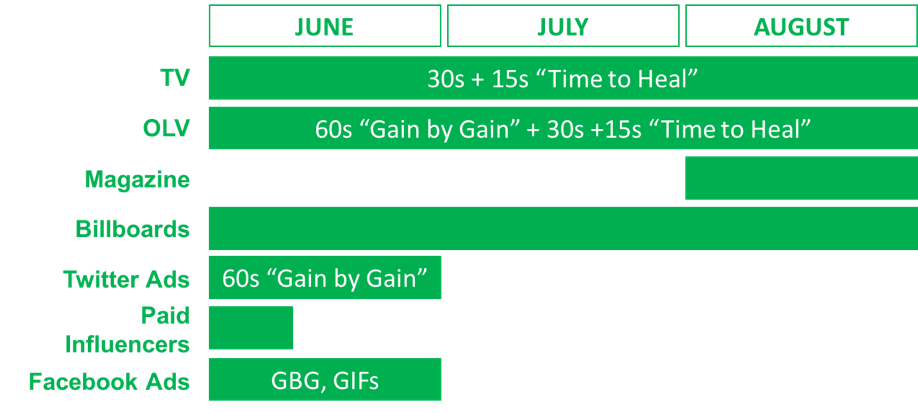 Section V — THE RESULTS
a) How did the work impact attitudes and behaviour?
Awareness of Gain flings!™ jumped by 10% (vs. previous year)[7].
We used Google Survey technology to measure key brand equity metrics pre- and post- campaign. We increased equity in every metric we tested for[8]:

"The Gain brand is known for its scent" – up 19%
"Gain has the longest-lasting scents" – up 37.5%
"Gain has a seriously good scent" – up 21.4%
"Gain is a reputable national brand" – up 7.0%

We made #4 on the YouTube Ad Leaderboard. Tide is the only other North American laundry brand to have ever made the list[9]. The leaderboard includes brand advertising with the highest viewer engagement rates (mainly, view-through on TrueView ad format).
b) What Business Results did the work achieve for the client?
Gain flings!™ dollar sales grew 192.1 IYA vs. category 155 IYA[3].
Sales growth for Gain laundry outpaced growth of the category by 2 index points[3].
c) Other Pertinent Results
Not relevant to the business objectives.
d) What was the campaign's Return on Investment?
ROI based on sales of Gain flings!™ with big investment increase, was $2.41 in revenue for every $1.00 invested in marketing3. The WARC total average ROI for short-term campaigns is 1.8:1[3].
[7] Ipsos Brand Health Tracker Monthly Report
[8] Google Survey – Pre- and Post-Campaign and viewed OLV vs. not viewed OLV. Non-user females, aged 18-44.
[9] YouTube Ads leaderboard – Month of June.
Section VI — Proof of Campaign Effectiveness
a) Illustrate the direct cause and effect between the campaign and the results
"Time to Heal" had the highest Nielsen IAG brand memorability scores in Gain's history (41.5% vs. P&G fabric care norm of 29%)[10]. Brand memorability is the P&G Fabric Care indicator for correlating creative performance to sales.
Despite previous period declines (JFM '16), the campaign had an immediate effect on sales, establishing a new baseline for total sales performance for the brand moving forwards.
b) Prove the results were not driven by other factors
Campaign spend vs. history and competition:
Ad Spend was not a factor:
Tide and All Laundry Detergent increased their media spend by even more than Gain[11]:
Additionally, share of total ad spend shows Tide far exceeding Gain spend levels and Arm & Hammer just slightly less[11].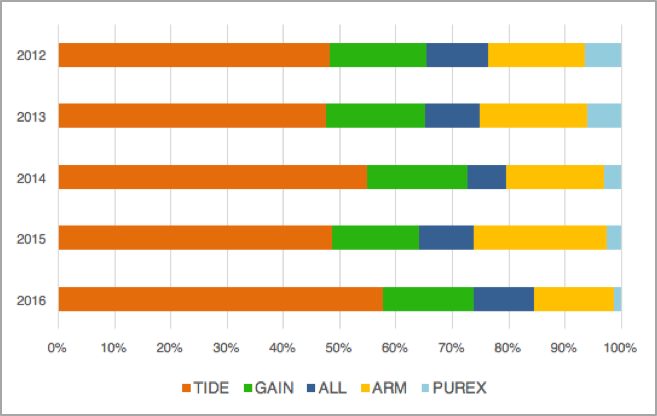 Pre-existing Brand momentum:
N/A
Pricing:
Discounting was not a factor:
Walmart (largest buyer/seller of Gain) priced Gain flings!™ 42 count SKU at $11.97. This was priced at parity with Tide Pods 42 count. Arm & Hammer 70-count for their OxiClean Fresh Scent Single Unit Dose was just $8.67. A Purex UltraPack was priced at $6.97[12].
Changes in Distribution/Availability:
Distribution increased but our promise for big media spend and a big idea featuring Ty Burrell was instrumental in rallying support from sales and trade partners.
Distribution increased 125.9 IYA[3].
Unusual Promotional Activity:
N/A
Any other factors:
Merchandising was not a factor:
Merchandising prioritized liquid detergent and/or matched previous year except for Dollar General and Family Dollar stores where Gain flings!™ had a display in July and August. That said, merchandising did not have a significant impact on total sales growth.
Family Dollar sales as percentage of total sales of Gain flings!™ decreased from 5% to 4%[3].
Dollar General sales as percentage of total sales of Gain flings!™ increased from 11% to 14%[3].
Consumer Interest in SUD overall was growing but Gain sales growth (92% for Gain vs. 55% actual sales growth for total SUD[3]) exceeded the upward trend in consumer interest. The following chart is third-party data showing increasing interest in SUD vs. Powder.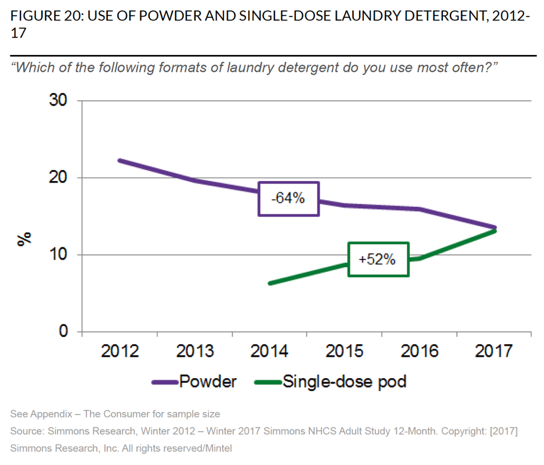 [10] Nielsen IAG In-Market TV testing. August 2016. IAG is message memorability + brand recall = Brand Memorability. The score is to correlate in-market creative performance to sales results.
[11] Ipsos Brand Health Tracker and Nielsen Ad Intel
[12] Walmart.com – August 31, 2016.