Brand Reawakening (BRONZE)

Client Credits: Fisherman's Friend, TFB & Associates Ltd.
Client: TFB & Associates, Fisherman's Friend
VP Health Care, Brand Manager: Brian Riddell
Agency Credits: Giants & Gentlemen
Advertising Agency: Giants & Gentlemen
Media Agency: MediaCom
PR Agency: Lamb Creative Group
Creative Director: Alanna Nathanson
Creative Director: Natalie Armata
Art Director: Jordan Heidendahl
Chief Strategy Officer: Gino Cantalini
Strategist: Marianne McBean
VP, Head of Client Services: Steve Waugh
Account Director: Julie Wierzbicki
Account Manager: Ally Dwyer-Joyce
Account Manager: Carlyn Anderson
Community Manager: Jaime Cruise
Copywriter: Brandon Tralman-Baker
Production House: Revolver Films
Music & Sound: Apollo Studios
Section I — CASE PARAMETERS
| | |
| --- | --- |
| Business Results Period (Consecutive Months): | Nov 2015 – Mar 2017 (26 months) |
| Start of Advertising/Communication Effort: | Nov 2, 2015 – Mar 31, 2017 |
| Base Period as a Benchmark: | 2013 – 2014 |
| Geographic Area: | Ontario and Quebec. |
| Budget for this effort: | $500,000 – $1 million |
Section IA — CASE OVERVIEW
Why should this case win in the category (ies) you have entered?
With Fisherman's Friend, we wanted to reawaken a brand by bringing it back – back to the roots that made the brand as special as the lozenge that was invented on the docks of England in 1865. This long history meant we could take advantage of a tremendous amount of brand equity. The problem was, Fisherman's Friend had lost its way (in terms of brand messaging) and was also up against some massive players: Halls and Ricola.
Our task was to reframe this slightly disoriented but unwaveringly strong (and effective) brand amongst the eroding younger demographic without alienating a loyal older base. Was it possible for Fisherman's Friend to reconnect with its rugged, ostensibly masculine roots in a
way that would resonate equally with both men and women? Young and old? And not just reinvigorate the brand purpose, but also break down the barrier to trial?
We were in a category littered with competitors that spend significantly more to solve virtually the same problem. Fisherman's Friend's "Suck it up" campaign proved that major increases in sales (35% YOY), awareness (80% aided recall), and impressions (over 4MM on Twitter) don't have to come from increased promotional spending, but can be gained by returning to your roots, focusing on your differentiating brand strengths, and growing your digital presence.
Section II — THE CLIENT's BUSINESS ISSUES/OPPORTUNITIES
a) Describe the Client's business, competition and relevant history:
Born on the docks of Lancashire, England, Fisherman's Friend throat lozenges were created by James Lofthouse in 1865 to relieve respiratory problems suffered by fishermen working the cold, harsh northern seas. Today, Fisherman's Friend is a global brand available in 125 countries worldwide, still using the original recipe. In Canada, Fisherman's Friend is distributed by TFB & Associates Limited of Markham.
Compared to the competition, Fisherman's Friend had less — less optimal shelf space and less product innovation (save the occasional new flavour and one package redesign.) And of course, less media and creative spend. Halls handily maintained a decades-long lead in the cough drop category with prominent shelf space, robust marketing spend and a volume market share of 67.6% in 2014 vs. a distant Fisherman's Friend at 12%. And Ricola, at close to 7.5% share-of-mouth as of 2014, had carved out a well timed 'natural herb' positioning (which naturally skewed female), coupled with a robust media spend, new Chru¨erchraft innovation, and enviable shelf presence (right next to Halls).
b) Describe the Client's Business Issues/Opportunities to be addressed by the campaign:
While Fisherman's Friend has enjoyed steady single-digit growth in sales over the last 25 years, the core user of Fisherman's Friend was aging, and given its propensity to skew male, Fisherman's Friend already felt a bit vulnerable. In an effort to grow market share from 2008 to 2014, the brand endeavored to specifically target that elusive younger, female user. However, as a result of that effort, Fisherman's Friend had adopted an ill-fitting, youthful, pop culture-esque tone with limited brand relevance and little in common with the actual product experience. A risky bet to be sure for a tenured (albeit outlier) cough drop in a highly competitive, fairly well-funded parity category of mouth-friendly, candy-like lozenges.
For Fisherman's Friend, anything less than a distinctive, meaningful, strong brand essence could prove fatal. Thankfully, strong is a global point of difference for Fisherman's Friend, built right into its DNA and notorious product experience. A sought after category benefit for many, the strong taste reputation was also a well-recited barrier to trial.
c) Resulting Business Objectives: Include how these will be measured:
The objective was to better the historical norm of 5% YOY sales; simple yet challenging as distribution was (temporarily) discontinued in two of Canada's largest retailers. Thankfully distribution through these retailers is no longer an issue and as we discovered, this objective was indeed attainable.
Section III — YOUR STRATEGIC THINKING
a) What new learnings/insights did you uncover?
The previous softer, lighter brand communications focused on sweet, popular flavours, but this was corrupting the core essence of the Fisherman's Friend brand. Fisherman's Friend has a rugged heritage and is efficacious by nature. We needed to go back to the brand's roots.
We assertively addressed the perception that the strong taste experience was considered a barrier for many and had eroded the relevance and usage of Fisherman's Friend among people under 40 years of age.
There was an opportunity to turn the distinct taste experience proof point of the leading SKU – Original Extra Strong – into a positive trigger. This strong taste, plus the 150-year-old rugged reputation, led us to align Fisherman's Friend with an age-old, (and gender neutral) insight: 'when the going gets tough, the tough get going'.
This 'tough' insight led to a simple but powerful brand positioning: Fisherman's Friend is tough love for your throat. This toughness, which applied to our product, our brand roots, and to both males and females alike (a nagging cough/cold is universally intolerable), led to our campaign idea: "Suck it up. This ain't no candy."
b) What was your Big Idea?
"Suck it up" leverages the brand's strong heritage, and distinct equity, to bring perspective to modern challenges. On the heels of helicopter parenting and the 'everyone is a winner' mentality, this campaign highlights how we have become a bunch of softies with a boatload of first-world problems.
c) How did your Communication strategy evolve?
Fisherman's Friend had historically relied on TV and radio for brand communications. This was the first time the communication strategy (and budget) shifted to digital and social. While we maintained our presence in TV and radio, we focused on an engagement-based social strategy via Twitter.
d) How did you anticipate the communication would achieve the Business Objectives?
We wanted to be where our target was engaged in conversation, believing this would increase sales amongst this target group. We couldn't outspend Halls and Ricola, so we decided to own a medium where they were underdeveloped.
Section IV — THE WORK
a) How, where and when did you execute it?
We wanted our creative to look and feel simultaneously modern and classic. The brand tone is very rugged and historical yet we're aiming to appeal primarily to a younger generation without alienating our older loyalists. We did this by incorporating a sense of nostalgia that is synonymous with the brand into our visuals while using very topical subject matter in the copy.
To compliment TV and radio, we made a significant shift to social and online, with Twitter as our main channel. We trolled people posting about first world problems and told them to #SuckItUp. We even created "Disgruntled Grandma" video responses and used radio personality Todd Shapiro of 102.1 The Edge to conduct on-the-street memorable content. We supported the social media drive with partnerships and activations with Tough Mudder, numerous CFL teams, and "Suck it Up" moments on Sportsnet's morning highlights. While radio was rolled out at the beginning of the year, TV and digital ran during peak cough/cold season (October 3, 2016 to March 31, 2017). Twitter, which also began on October 3, is still going strong.
c) Media Plan Summary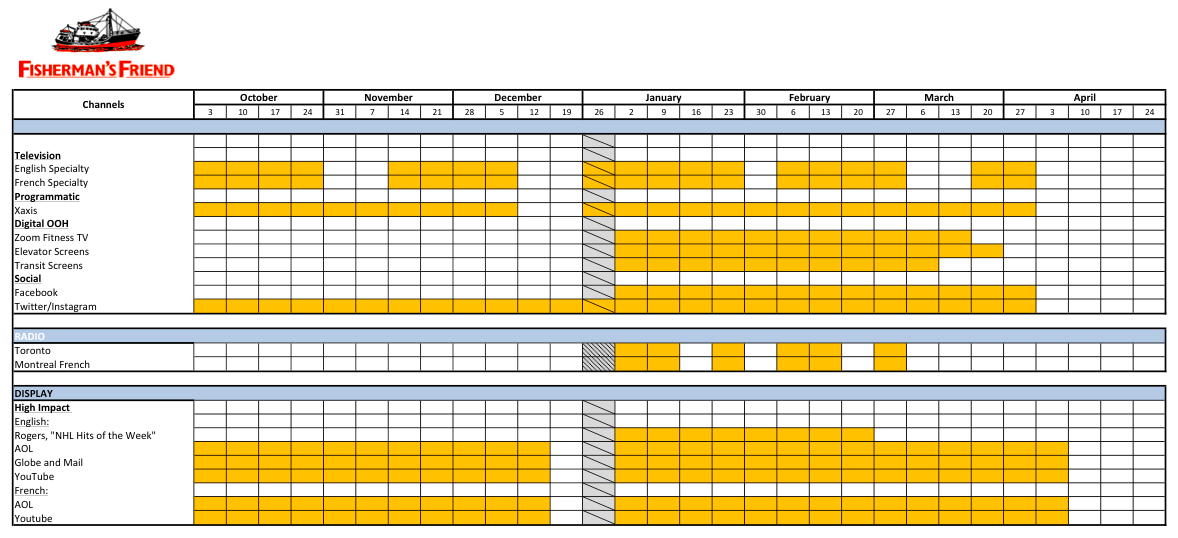 Section V — THE RESULTS
a) How did the work impact attitudes and behaviour?
While the most important metric is sales (which this campaign over-delivered on), the "Suck it up" campaign has resulted in strong brand recall (80% aided), with digital ad recall doubling since 2016, to 15%.
b) What Business Results did the work achieve for the client?
Success started with the brand's best November on record (40% growth in sales compared to 2015).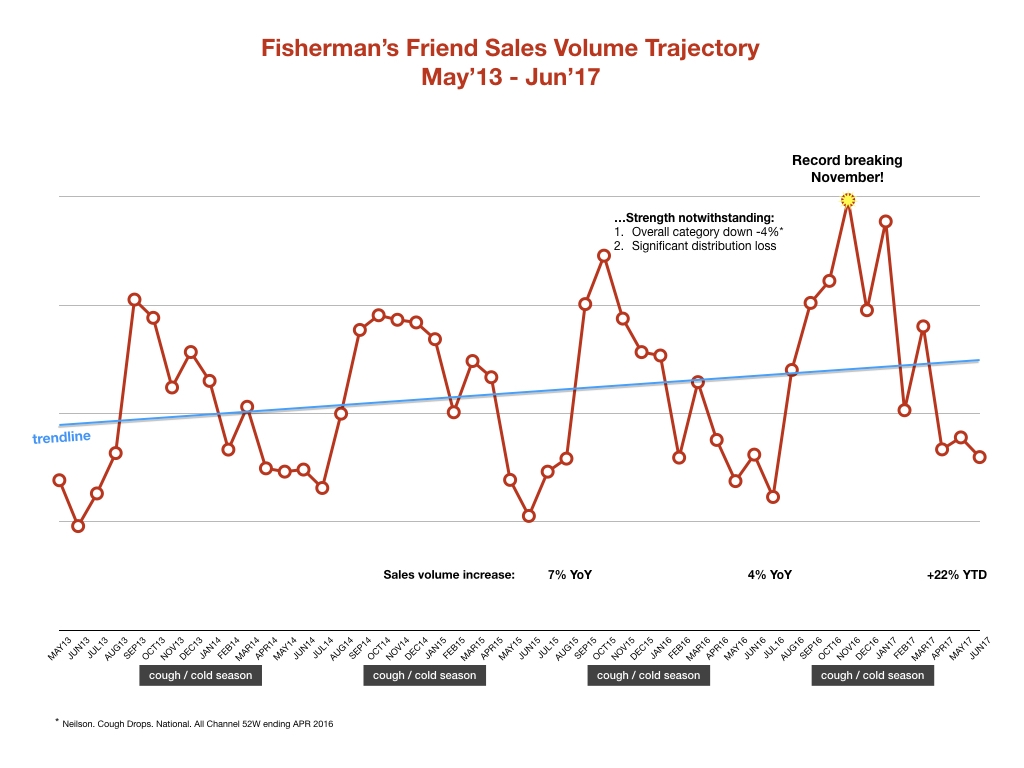 Sales continue to boom with Q1'17 already 18% ahead of projected sales, and 35% ahead YOY. This is dramatic given the size of the brand and the fact that YOY growth is normally 5%.
c) Other Pertinent Results
This was the #1 Social program globally for Fisherman's Friend, allowing Fisherman's Friend distributors in other markets to use our content.
d) What was the campaign's Return on Investment?
For Fisherman's Friend in Canada, ROI is always measured based on sales. An increase in sales results in an increase in marketing budget. As of July 2017, Fisherman's Friend is still tracking +23% in dollar sales and just had the biggest July on record.
Section VI — Proof of Campaign Effectiveness
a) Illustrate the direct cause and effect between the campaign and the results
'Suck it up' achieved significant sales, online engagement, and brand recall growth without a significant change in pricing or distribution.
Setting the foundation for the "Suck it up" campaign was TV/video. Media metrics performed above industry benchmarks: video completion rate (VCR) percentage of 85% and Click-Through Rate (CTR) of 0.73% vs. industry benchmarks of 80% and .10% respectively. The Rogers NHL Hits of The Week Sponsorship also resulted in above industry benchmarks at 88% VCR and 0.95% CTR. Total actual delivered video impressions also exceeded contracted impressions by 62% (68,429,265 impressions vs. 42,313,900 impressions respectively).
Fisherman's Friend has also experienced a dramatic increase in social media engagement since the start of the campaign. Fisherman's Friend Twitter account followers have grown 115% through 4 million impressions and 70,000 engagements.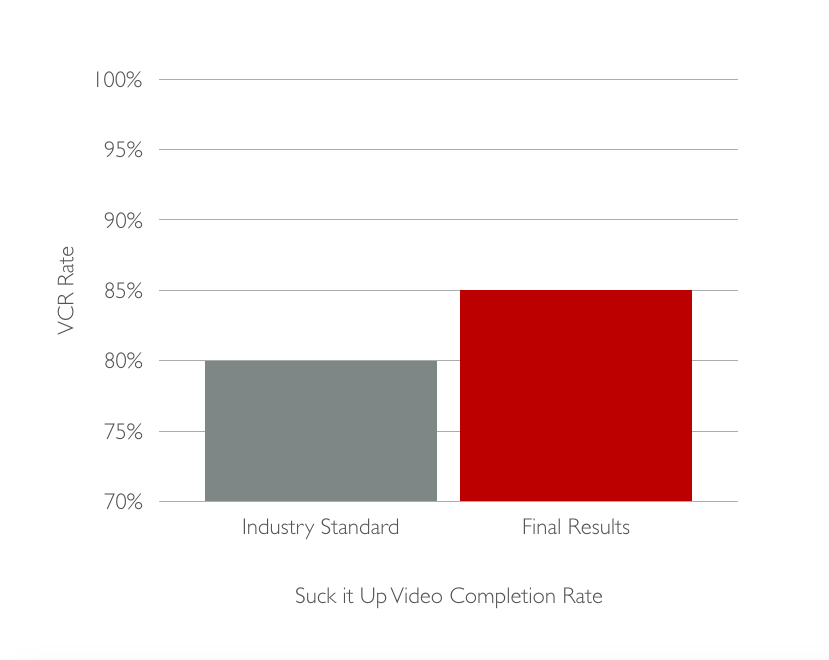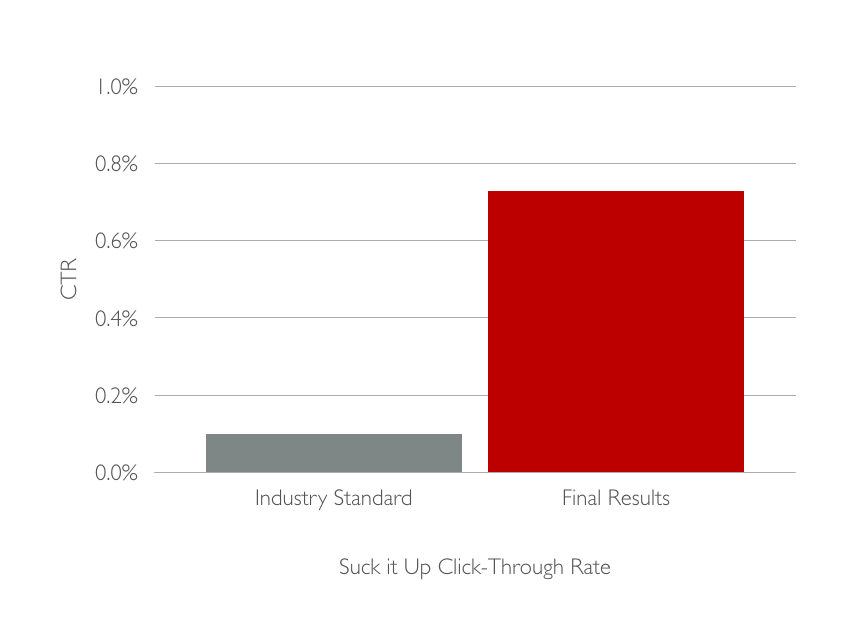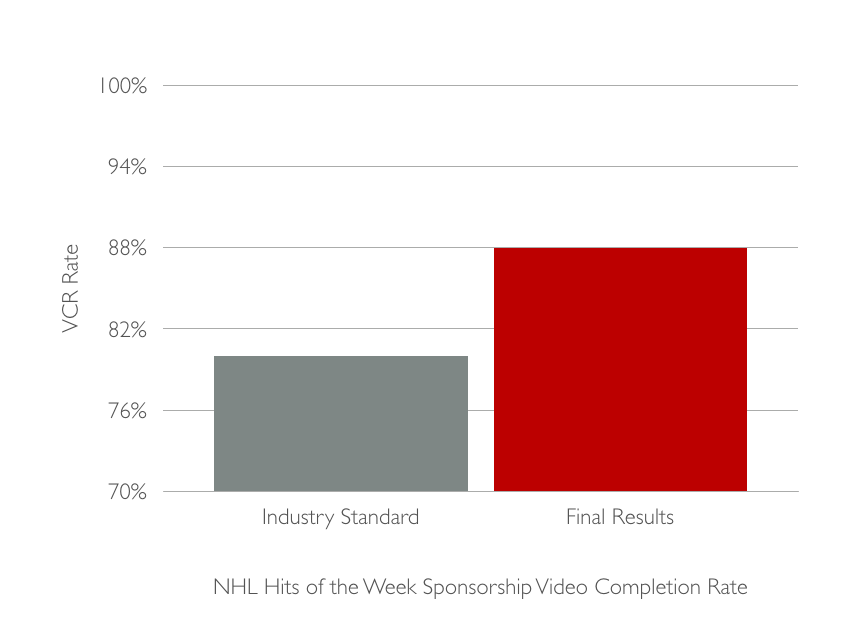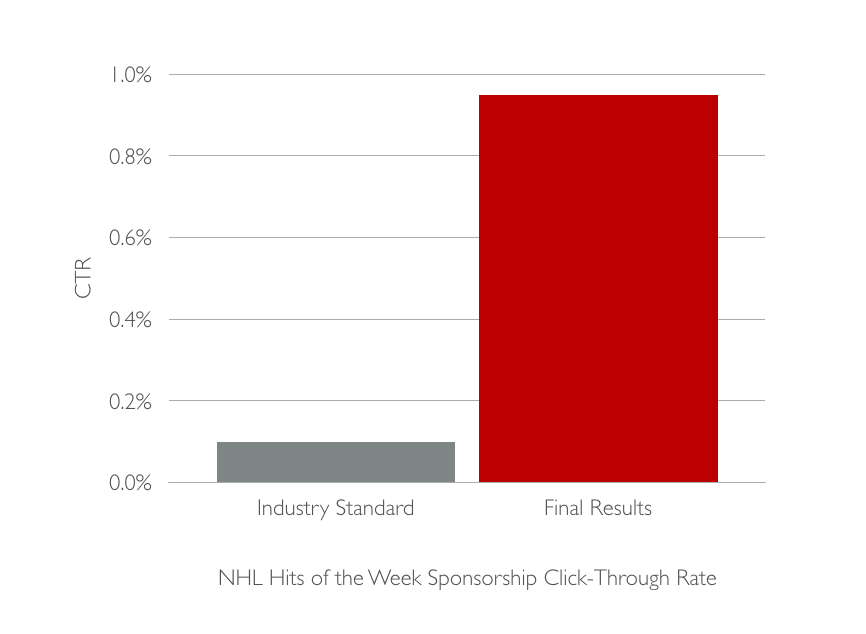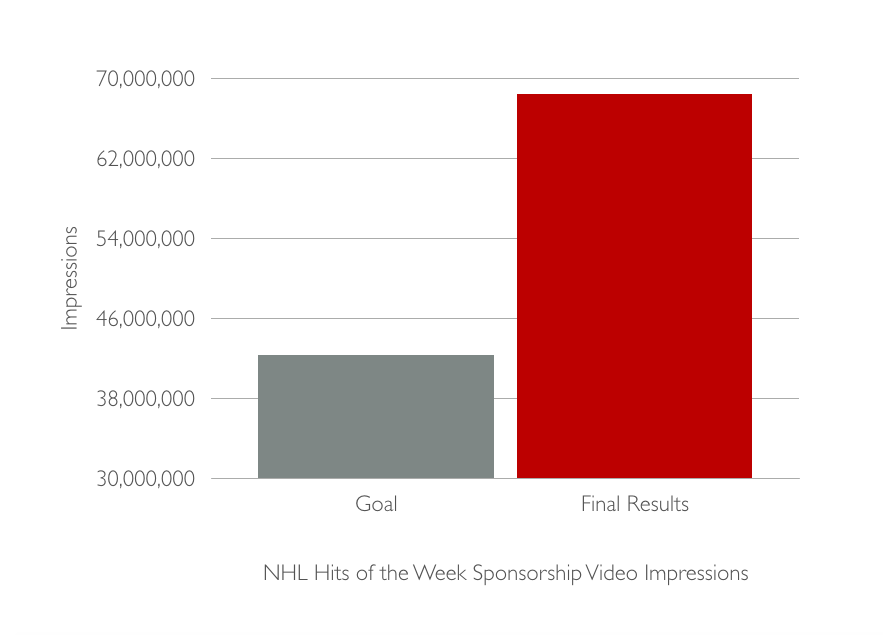 b) Prove the results were not driven by other factors
Campaign spend vs. history and competition:
Fisherman's Friend did not expand into any new markets during the campaign, hence these sales came from increased interest from existing markets. Pricing and product offerings remained similar, and promotional budgets remained constant to previous years.
Pre-existing Brand momentum:
There were no other significant brand activities preceding this campaign.
Pricing:
There have been no price changes surrounding this period.
Changes in Distribution/Availability:
During our campaign, distribution in two of Canada's largest stores was temporarily halted. Despite this distribution challenge, sales still grew in all other channels.
Unusual Promotional Activity:
There was no promotional activity surrounding this period.
Any other factors:
None.