Sustained Success (SILVER)

Client Credits: Interac Association
Client: Interac Association
Clients: Andrea Danovitch, Leslie Vera, Lauren McKay
Agency Credits: Zulu Alpha Kilo
Agency: Zulu Alpha Kilo
Chief Creative Officer: Zak Mroueh
Executive Creative Director: Allen Oke, Ron Smrczek
Creative Director: Jon Webber
Art Director: Noel Fenn (ACD) Fiorella Martinez, Shawn James Jonathan Armstrong, Andrea Romanelli
Writer: Andrew Caie (ACD), Jacob Pacey, Sean Atkinson, Jon Taylor, Gabrielle Elliot
Agency Broadcast Producer: Tara Handley, Tara Cochrane
Agency Print Producer: Kate Spencer, Kari Macknight Dearborn, Eileen Smith
Agency Digital Producer: Sam Leirsch, Ola Stodulska, Neal Owusu
Account Team: Rob Feightner, Laura Robinson, Winnie Hsiao, Adrian Goodgoll, Maegan Thomas
Strategic Planner: Heidi Philip, Emma Brooks, Ebrahim El Kalza
Production House: zulubot, OPC, Adhoc
Executive Producer: Shaam Makan, Ian Webb
Director: Sean Wainsteim, Tomas Mankovsky, Peter Martin, Melissa Coghlan & Nadine Schwartz
UX/UI Designer: Jon Armstrong
Designer: Omar Morson, Ryan Booth
Developer: Justo Tellez
MEDIA AGENCY: Media Experts
MEDIA TEAM: Richard Ivey, Phil Borisenko, Jenna Piirto, Lauren Rosenbloom
Section I — CASE PARAMETERS
| | |
| --- | --- |
| Business Results Period (Consecutive Months): | Spring 2014-Spring 2015 – Spring 2015-Spring 2016 |
| Start of Advertising/Communication Effort: | Spring 2014-Spring 2015 – Spring 2015-Spring 2016 |
| Base Period as a Benchmark: | 2013 |
| Geographic Area: | Canada (National) |
| Budget for this effort: | Over $5 million |
Section IA — CASE OVERVIEW
Why should this case win in the category (ies) you have entered?
Year one with INTERAC was a big success, helping us win two CASSIES and being shortlisted for the Effies. This case deserves to win in this category because that momentum has continued and INTERAC's brand message reached new levels of awareness and saw record levels of engagement with Canadians across a multitude of platforms. This was achieved through a tenacious effort to find new and creative ways to deliver the message that "life is better when you use your own money" over credit cards.
In this new era of the digital economy, it's increasingly all about innovation and INTERAC had none from a product and service standpoint. This year, we had to trump shiny product and service innovation with emotional resonance in our communication. This case tells the story of how we succeeded in doing exactly that to not just sustain INTERACT's success, but take it to a new level.
Section II — THE CLIENT's BUSINESS ISSUES/OPPORTUNITIES
a) Describe the Client's business, competition and relevant history:
Canadians have used INTERAC for over 28 years and yet don't think of it as a company or even a product, let alone a choice. In spring 2014, INTERAC successfully launched a new brand campaign that coined the phrase "Be in the Black" as a memorable rallying cry for Canadians to be financially responsible, to choose INTERAC debit instead of their credit card and feel amazing for doing so.
Why did we choose this brand platform? As cash is fast becoming a thing of the past, Canadians have essentially two choices when it comes to how they pay for their purchases. They can use one of their credit cards or they can use their INTERAC Debit card.
Credit cards are highly appealing – they allow people to pay for things they want, when they don't actually have the money to buy them. And when they do so, the credit card rewards them with points to get free stuff! Unfortunately, this has led to rising debt levels in Canada that are at an all-time high.
INTERAC Debit card offers no fancy rewards. This means INTERAC constantly needs to find ways to persuade consumers to pay with their INTERAC Debit card rather than their credit card – to pay with their own money rather than buy on credit. No small feat.
We decided to show Canadian consumers that by using INTERAC Debit and choosing to pay with their own money they would be rewarded with less debt, less stress and overall happier lives.
b) Describe the Client's Business Issues/Opportunities to be addressed by the campaign:
Our mission in 2015 was to leverage the new brand platform in novel ways that would continue to strike a deep emotional chord with Canadians to have them choose to pay with INTERAC more often.
With no new innovation in a category where innovation is fast becoming the industry's middle name – the digital economy, fintech, e-wallets, mobile payments, virtual money, etc. – brand advertising needed to do the heavy lifting.
c) Resulting Business Objectives: Include how these will be measured:
Most critically, we needed to fuel a 3% increase in transaction volume over the previous year. (1)
To achieve this, we were looking for a 5% lift in brand awareness and continued positive momentum in brand equity including: (2)
•"Is a less stressful way to pay"
•"Helps me control my finances"
•"Puts me in control"
•"Is a smart way to pay"
(1) INTERAC Transactional Data Report (May 2014)
(2) Ipsos ASI Ad Tracking Results (May 2014)

Section III — YOUR STRATEGIC THINKING
a) What new learnings/insights did you uncover?
We conducted a literary review and qualitative research to uncover the real-life experience of using your own money. We wanted to understand not only what then negative side of heavy debt was like, but also what the positive side of living debt free felt like.
Being debt free means never dreading a bill, paying a cent of interest or having to avoid creditor calls. It means feeling financial stable and, as a result, feeling more relaxed, capable and optimistic.  It has a positive impact on health and well-being, and on important relationships; even what happens in the bedroom! Simply put, life is better when you use your own money.
b) What was your Big Idea?
Be In The Black with INTERAC. Life is better when you use your own money.
c) How did your Communication strategy evolve?
The majority of brand activity in 2014 was focused on encouraging Canadians to avoid debt by using their INTERAC Debit card. In 2015, we deliberately added a positive spin into our messaging mix showing Canadians how using your own money reaps emotional rewards.
d) How did you anticipate the communication would achieve the Business Objectives?
If we could show Canadians the positive impact on their health and well-being of using their own money, it would encourage them to reach for their INTERAC Debit card instead of their credit card when they opened their wallets to pay for something.
Section IV — THE WORK
a) How, where and when did you execute it?
Our 2015 plan included five key pillars:
1.  High-frequency retail messaging:  We deployed hard-hitting proximity OOH against key retail verticals, and used digital ads to remind Canadians to avoid the stress of debt by using INTERAC Debit.
2.  Point of payment instant gratification:  To fuel transaction volume, we launched a series of 'Instant Gratification' programs with key Canadian retailers. At Tim Hortons, for instance, we rewarded those who used INTERAC with a limited edition INTERAC branded donut! 
3.  Branded Content:  Upon learning that credit card companies issue cards even to pets, we created Pets with Credit, a two-minute "dogumentary" with a tongue-in-cheek tone that explores the serious consequences of racking up debt. We also created an emotional short film titled The Surprise about a young boy who works hard to earn enough money to buy a puppy and teaches his father a valuable financial lesson in the process.
4.  Winterlicious Program:  Restaurants are a stronghold for credit cards.  And so we partnered with Winterlicious and rewarded diners for paying with their INTERAC Debit card.  Participants in the program were entered for a chance to attend the exclusive INTERAC "Dinner in Black", dressed in black, of course, with a five-course meal courtesy of celebrity chef Matty Matheson. Using ingredients like squid ink, all the food was black in colour.
5.  A holiday push:  To help Canadians avoid the January blues that come with a huge post-holiday bill, we reminded them there's a stress-free way to buy during the holiday season. We used hard-hitting OOH, online films and television to make the point.
c) Media Plan Summary
The media strategy needed to deliver multiple-creative approaches with a consistent message across all media touch-points throughout the year.  The media investment plan focused primarily on 4 key campaigns:
1.  Point of payment instant gratification:  We tailored the media strategy according to each participating merchant.    Specifically for Tim Hortons, we wanted to generate awareness of INTERAC's promotion and drive consumers into locations across the country with an incentive to pay with INTERAC Flash.   From Nov. 4 – 17, 2015 and with a total budget of $59,000, our tactics included engaging and interacting with consumers through social media and reaching them as close as possible to Tim Hortons point-of-sale.   Specifically, our Juice Mobile rich media execution drove in-store visits with a built-in map showing the nearest Tim Hortons locations and generated over 3 million impressions as well as 12,968 expansions at a cost-effective $1.41 CPE.  Google Waze mobile ads drove in-store visits with pins showing nearby Tim Hortons locations as well as takeovers with a "Drive There" call-to-action with GPS directions.  This execution delivered 964 navigates to Tim Hortons locations as well as 1.3 million pin impressions of the custom donut.   Of course, tent-cards and digital screen ads at point-of-purchase within every Tim Hortons location helped too! 
3.  Branded Content:  With both Pets with Credit and The Surprise, we looked to drive video views and engage Canadians in discussions around the negative effects of credit and how life is better when you use your own money.   From April 10 – May 7, 2016, Pets with Credit was launched with digital video units (YouTube Trueview + Mastheads and Facebook Video) along with sponsored content on Buzzfeed and video seeding.  The video delivered over 2.3 million completed views – double our target – with 92% positive social sentiment.   On the heels of this success,"The Surprise was launched with a more robust plan that included digital video units (YouTube Trueview + Mastheads, Facebook Video, and rich mobile), Cineplex Showtime placements, video seeding and social support on Twitter and Facebook.   The video was watched over 3.1 million times – 16% over target – with a 97.2% positive sentiment in social.
4.  Winterlicious Program:  Our media objective was to drive awareness of the contest, generate entries and encourage social engagement and participation.   Between Jan. 25 – Feb. 11th, 2016, we developed a digital and social connection strategy that leveraged online display, Facebook and Twitter units that targeted consumers in the Greater Toronto Area.  The plan delivered 8.76 million brand impressions and 8,600 clicks to the contest site. (1)
5.  A holiday push:  The task was to compel Canadian to make the right decision and choose INTERAC Debit over Credit.  In order to compel Canadians to make the right decision over the holiday period, we needed to create a strong market presence for INTERAC holiday messaging while delivering national coverage (E&F) with an emphasis on the key markets of Toronto, Montreal and Vancouver.  To raise awareness and engage consumers, we deployed Television for a 6-week period, allowing us to maintain a consistent and fluid in-market presence.  We complemented this with targeted video for visibility, reach and cost-efficiency through all four video platforms: online, tablet, mobile and smart TV.   Specifically, Boingo Shopping Centre Wi-Fi Sponsorship also drove our message within key retail environments.
At 163 Cineplex theatres coast to coast, we ran a :60s full-motion spot during pre-show for an 8-week period.  The Cineplex plan also included magazine, digital lobby signage, box office wraps and hanging banner with a fully integrated experience.
We also used a combination of digital and static out-of-home in order to push awareness and promote use of INTERAC during the holiday period. Additional focus on malls and proximity based media allowed us to get as close as possible to the point of purchase, encouraging customers to reach for debit over credit.
Highlights of the media plan included
TV delivered over 210,000,000 impressions (1)
Digital delivered over 85,332,058 impressions; 18,890,443 Video/Audi Plays with a completion rate of 42%. (1)
(1) Media Experts | Post-Campaign Analysis Report (July 2016)
Section V — THE RESULTS
a) How did the work impact attitudes and behaviour?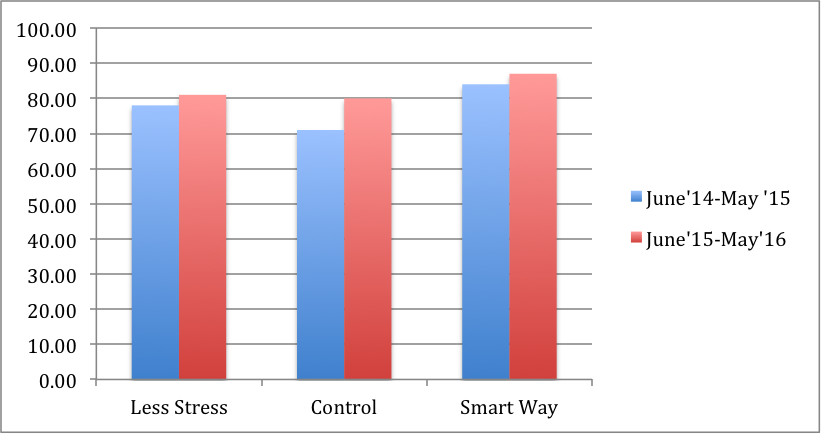 Against our core target, Emotional Spenders, our brand equity measures positively impacted by the campaign included (1):
"Is a less stressful way to pay" (+ 3 pts.)
"Helps me control my finances" (+ 9 pts.)
"Puts me in control" (+ 3 pts.)
We had significant impact on purchase behaviours as evidenced by the significant transaction volume increase noted below in Business Results.
b) What Business Results did the work achieve for the client?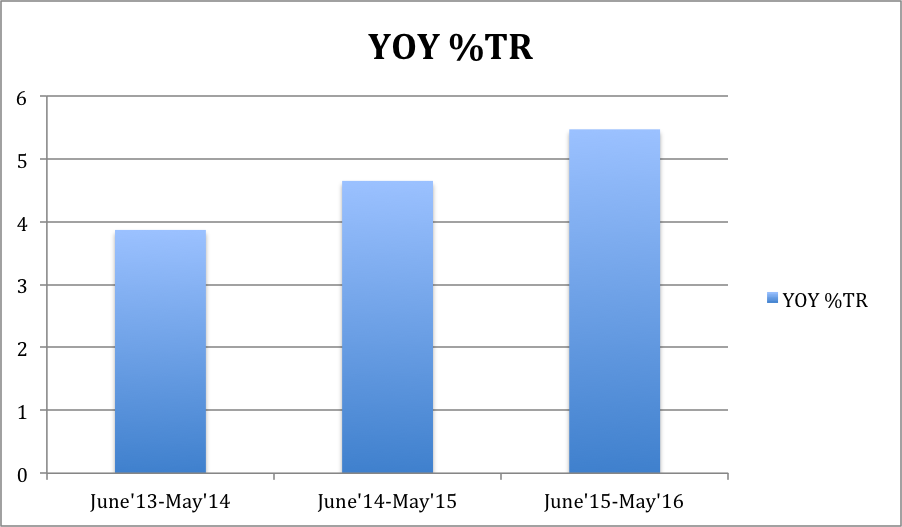 The year was an outstanding success for INTERAC. Our campaign activities delivered a 5.47% lift in transaction volume over the previous year, beating our transaction volume objective by 82% and resulting in 265 million more INTERAC transactions than the year prior. (2)
c) Other Pertinent Results
In spite of being grossly outspent by its credit card company competitors, INTERAC maintained a leadership top-of-mind awareness position of 63%, eclipsing Visa (57%), MasterCard (52%) and AMEX (49%). (1)
Our content engaged Canadians with over 9 million views to date. (2)
Most recently, Google recognized the Surprise:  A short film by INTERAC as the 5th most watched leaderboard on YouTube in May 2016.
Also, despite a major push from giant credit card competitors, our merchant incentive programs helped to shift Canadians typical payment behaviours at their favourite small purchase merchants in favour of INTERAC:
The Beer Store saw a 8% increase in INTERAC transactions. (3) 
Pizza Nova experienced a 5% increase in INTERAC transactions. (3)
Sobeys saw a 5% shift from credit to debit for the group of customers that were part of the 12-week offer. (3)
At Tim Hortons, Canadians received 1,356,433 free donuts. Seriously. (3)
INTERAC's 'Be in the Black' has been heralded by commentators in national newspapers, government and consumers themselves as an antidote to our growing culture of indebtedness.
d) What was the campaign's Return on Investment?
ROI cannot be disclosed as INTERAC is not a public company.
(1) Ipsos API – INTERAC 2016, Q3 Report – Advertising and Brand Equity
(2) Media Experts | Post-Campaign Analysis Report (July 2016)
(3) INTERAC transactional data report (May 2016)
Section VI — Proof of Campaign Effectiveness
a) Illustrate the direct cause and effect between the campaign and the results
As illustrated below, no other factors existed during the campaign period that could have contributed to these results. Brand tracking also speaks to how well the campaign resonated with the target: (1)
Brand awareness increased by 50% from pre-launch levels and 9% over the previous year, far exceeding the 5% objective
Brand link outperformed the Ipsos norm (0.79 vs 0.53)
b) Prove the results were not driven by other factors
Campaign spend vs. history and competition:
Media and production spend was flat versus 2014.
Pre-existing Brand momentum:
While the 'Be In The Black' campaign has been building the INTERAC brand since 2014, this holiday campaign resulted in a significant jump in INTERAC Debit card usage during the 2015 holiday period versus previous year. (see Business Results section above)
Pricing:
There was no discount or cash incentive offered to consumers for choosing to pay with INTERAC.
Changes in Distribution/Availability:
INTERAC has always been available on all Banking Debit Cards in Canada. There was no change to this (positive or negative) during the campaign period.
Unusual Promotional Activity:
No merchant promotional programs were in market during this period.
Any other factors:
None.
(1) Ipsos API – INTERAC 2016, Q3 Report – Advertising and Brand Equity