eos – Reinventing Lip Balm
Cdn Success Outside Canada (GOLD)
Sustained Success (GOLD)

Client Credits: eos Products
Sherry Jhawar (VP Marketing)
Jonathan Teller (Managing Partner)
Sanjiv Mehra (Managing Partner)
Alliah Agostini (Brand Manager)
Agency Credits: Juniper Park
Alan Madill (Executive Creative Director, Partner)
Barry Quinn (Executive Creative Director, Partner)
Terry Drummond (Executive Creative Director, Partner)
Jill Nykoliation (President, Partner)
Shelly-Ann Scott (Group Account Director)
Chris Marrone (Account Supervisor)
Brittany Gold (Account Supervisor)
Laurent Abesdris (Copywriter)
Derek Blais (Art Director)
Ryan Teixeira (Art Director)
Chelen Hilmi (Designer)
Hanna Bratt (Producer)
Terry Wykurz (Producer)
Mark Prole (Producer)
Crossover Notes:
All winning cases contain lessons that cross over from one case to another. David Rutherford has been identifying these as Crossover Notes since CASSIES 1997. The full set for CASSIES 2013 can be downloaded from the Case Library section at www.cassies.ca.
Crossover Note 1. What a Brand Stands For.
Crossover Note 5. The Total Brand Experience.
Crossover Note 6. Should the product be improved?
Crossover Note 10. Conventional Wisdom—should it be challenged?
Crossover Note 20. Emotional versus Rational.
Crossover Note 27. Share of Voice, Share of Mind, Spending.
To see creative, click on the links that are embedded in the case.
Section I — BASIC INFORMATION
| | |
| --- | --- |
| Business Results Period (Consecutive Months): | September 2009 – June 2012 |
| Start of Advertising/Communication Effort: | August 26, 2009 |
| Base Period as a Benchmark: | N/A – New Product Launch |
Section II — SITUATION ANALYSIS
a) Overall Assessment
How do you break through as a challenger brand in an already over-invested women's beauty market, competing against rich multinationals within a product category that no one really cares about?
In the case of the EOS Smooth Sphere Lip Balm, we created an insight-driven brand platform that would radically alter consumer perceptions of what a lip balm could be – from something merely functional, to an item women would covet.
The U.S. lip balm category is $400 million annually, stocked with well-established brands that have the strength of multinational companies behind them. The top 4 brands have a combined 65% share and there are about 200 additional brands with less than 1% share each. Moreover, in the year prior to the EOS launch, a large multinational skincare brand entered the lip balm category, spending $30 million to achieve a 6.3% dollar share. EOS was entering a hypercompetitive category, with fewer skus and less than a $5 million spend, significantly lower than the top brands.
As a small independent start-up brand, EOS did not have the vast resources of its competitors, so every aspect of its launch had to work hard to disrupt consumer indifference and get them to notice it.
Our marketing objectives were:
Generate mass awareness for the new EOS Smooth Sphere lip balm product.
Drive trial. [See share targets in the next section.]
So how did EOS gain a solid footing in this U.S. category? By creating advertising communications that disrupted category conventions to elevate what a lip balm could be. [Crossover Note 10]
b) Resulting Business Objectives
i. Achieve 2% share by the end of the first 6 months
Through category analysis, we determined that 2% dollar share would be significant enough to establish a meaningful position in the market.
For perspective on how aggressive this goal was, there are 200+ existing brands that have failed to achieve more than 1% share at all. EOS wanted to achieve this in 6 short months!
ii. Double share to 4% in the first full calendar year
iii. Achieve 50% growth in the second full calendar year
This goal would put EOS in the top 5 of lip balms in the marketplace, a significant achievement in a category that had been unchanged for years.
c) Annual Media Budget
Confidential
d) Geographic Area
United States
Section III — STRATEGIC THINKING
a) Analysis and Insight
The lip balm category is a sea of sameness with communication that is rooted in function, focused on ingredients, and how they combat the elements (cold, wind or nature). The top brands in the category (Chapstick, Blistex, and Carmex) are essentially unisex offerings. And even the brands that skew more towards women (Nivea and Softlips) present themselves functionally. [Crossover Note 20]
To truly break through in a crowded category with limited investment, we needed to step outside these conventions. So we looked to the consumer for inspiration.
By conducting a rich study of women's insights, EOS knew that women often don't take time for themselves. Women's brains are wired to put themselves at the bottom of their own "To Do" list. Numerous studies have found that women tend to prioritize what "must get done" over doing things that bring them pleasure.[Footnote 1]
In fact, the daily tasks on the average woman's "To Do" list equals over 38 hours! [Footnote 2] Furthermore, when a woman strikes a task off her list, she tends to replace it with yet another functional task, rather than moving something more pleasant up the list. [Footnote 2]
Our core consumer insight: For women, functional tasks often trump pleasure.
This insight got us thinking: "Why do function and pleasure have to be mutually exclusive? What if we intertwined them, so we delivered on both? [Crossover Note 5]
b) Communication Strategy
We knew our target, women in their 20-30s, is intuitively drawn to what is stylish. [Crossover Note 1] They are curious and interested in being in-the-know, which keeps them searching for the latest and greatest "new thing" that they love sharing with their peer group. [Crossover Note 6]
So we took a 4-pronged approach to make them aware of and engage them in the EOS brand:
1. We established the EOS brand with sophisticated, design-driven print ads in highly select U.S. fashion & beauty, lifestyle and celebrity magazines, to capture the attention of both consumers and fashion bloggers.
2. We extended the brand's arresting imagery into in-store POS so the sense of delight continued through to the point of purchase.
3. We used social media to invite her to try it and share it with her peer group. We knew that women trust their tribe more than anyone else and use social media to share tips, information and advice with each other. So we harnessed this innate behaviour into a sampling program.
4. We harnessed the power of PR to enlist the influential beauty press to tout the product as a must-have accessory.
Footnote 1: "The Female Brain", by Dr. LouAnn Brizendine;
"Why She Buys", by Bridget Brennan; "BCG: Women Want More", by Michael J. Silverstein & Kate Sayre
Footnote 2: "Just Ask A Woman", by Mary Lou Quinlan
Section IV — KEY EXECUTIONAL ELEMENTS
a)Media Used
Print
PR
Online sampling (via social media)
In-store POS
b)Creative Discussion
Our creative idea was inspired by our consumer insight: For women, functional tasks often trump pleasure. We thought, "Why does she feel she has to choose between function and pleasure? What if we intertwined them, so we delivered on both?" Thus, she could be emotionally drawn to EOS for the pleasure it presented, yet still choose it for its function.
Our big idea: EOS is delightfully purposeful.
Creative overview:
1. We established EOS as an elevated beauty item through a visually arresting print campaign.
Our stunning imagery placed the EOS Smooth Spheres in artistic situations reminiscent of objects in everyday life. For example, EOS Smooth Spheres were used in place of melon balls, lemon slices in spa water and as a bunch of "tulips". The sophisticated images created page-stopping vignettes that showcased EOS as a beautiful, delightful brand.
This beautiful imagery was paired with copy that expressed the functional benefits of the product:
"EOS lip balm is all-natural, paraben-fee and packed with shea butter and jojoba oil, so your lips stay moisturized, soft and smooth."
2. We extended the contemporary imagery onto the POS, reinforcing EOS' delightful brand proposition at the point of purchase.
We leveraged the clean and colourful design to help EOS breakthrough the cluttered in-store environment while being incredibly efficient in its footprint.
3. We used social media to invite her to try it and share it with her peer group.
We created the "EOSphere" Sampling Initiative

We had 50,000 Smooth Spheres to get into women's hands in 30 days.
The initiative invited women to receive a free EOS Smooth Sphere,

and

share the same invitation with a friend in her social network, using Facebook, Twitter or email.
We kicked it off by seeding it with our 1500 consumers who had written to EOS about how much they loved the product, along with select beauty editors.
In addition to the sample, women could see their own sphere of influence – the site visually showed which of her friends had received EOS Smooth Spheres through her, and how they were connected to each other.
We also invited her to join our brand philosophy by completing the thought, "If the world was made for women…". This provided an additional opportunity to engage with the EOS brand and share and enjoy the thoughts of their peers.
4. Our PR efforts tapped key influencers to tout the must-have cachet of the EOS Smooth Sphere product
We approached beauty experts at key media outlets and celebrity fans, to write reviews and editorial about the EOS Smooth Sphere.
c)Media Discussion
We focused on Print because of the proximity to other beauty news and ads and because our budgets were very tight. The print campaign ran in highly select beauty, fashion, lifestyle and celebrity magazines during the key season of October through March 2009, 2010, 2011. Average annual GRPs were approximately 280 print GRPs.
We used PR to reach key influencers, including editors and bloggers.
Section V — BUSINESS RESULTS
a) Sales/Share Results
The EOS Smooth Sphere has been a resounding success. It has exceeded both the aggressive short- and longer-term goals!
A. Six-month goal – Significantly Exceeded! (Launch year)
1. EOS achieved a 2.5% dollar share in just 6 months, exceeding our goal of 2%.
To put this accomplishment into context, EOS did so with the same distribution as the large multinational skincare competitor mentioned earlier, but just half the skus (12 vs. 22) and a significantly lower spend — just one twelfth of the competitor. [Crossover Note 27]
Said another way, EOS achieved 40% of the share (2.5% share for EOS vs. 6.3% for the competitor), with

less than 10% of the spend.
2. Volume sold at retail tripled in the first month of the print campaign vs the prior month (Oct vs Sept 2009)
(Source:Client data)
3. The success of the sampling campaign was off the charts!:
We gave away the 50,000 spheres in just

24 hours

(vs. our goal of 30 days)
The excitement generated by those wanting to share the site with their friends through Twitter, exceeded Twitter's limit of connections, causing Twitter to stop posts originating from the site – in short, we essentially 'broke' Twitter!
16 fashion and beauty editors, including People Style Watch (average 12.6MM visitors daily) featured the program
Visits to the EOS main website jumped 10x in the first day and 20x on the second day after the launch of the sampling site (vs. the prior average).
B. First full-year target – Exceeded!
EOS' share of the lip balm category has more than doubled to 5.6% (vs goal of 4%)
(Source: Nielsen P12M December 2010)
C. Second full-year growth target – Exceeded!
EOS is up a further +104% VYA, (vs. goal of +50%) (Source: Nielsen P12M December 2011)
As at June 2012, EOS had the #1 SKU in the lip category (vs. our aggressive goal to break into the "top 5") across Food/Mass/Drug including major retailers: Target, Walmart, CVS and Duane Reade
(Source: Nielsen P12W as at June 9 2012, Retailer data)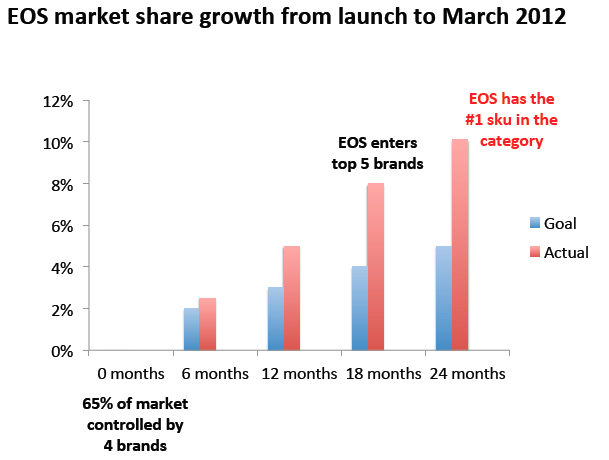 D. Impact on the Category
EOS is driving the growth in the lip balm category, and shows no sign of stopping!
EOS is a key driver of lip balm category growth in several key retailers:
In Walgreens and CVS, on an absolute dollar basis, EOS grew the most of all lip balm SKUs in market in both 2011 and YTD 2012
At Target, EOS is the biggest growth driver in the lip balm category, outpacing new entrants from Maybelline, L'Oreal, and Revlon.
(Source: P12W as at June 9, 2012, Retailer data)
E. Marketing Industry Success
The EOS Lip Balm case study has been proudly recognized as best in class, winning back-to-back Effies in the U.S.
2012 – awarded an Effie in the category, "David & Goliath" (a category celebrating small brands that made significant inroads against the category heavyweight brands)
2011 – awarded an Effie in the category "Beauty Products & Services"
b) Consumption/ Usage Results
c) Other Pertinent Results
d) Return on Investment
Section VI — CAUSE & EFFECT BETWEEN ADVERTISING AND RESULTS
a)General Discussion
i. Consumer Success
Consumers are buzzing about EOS!
"The communication platform is a key driver of the consumer magnetism for the EOS brand. The imagery is unlike anything in the category. It is truly arresting and memorable. The consumer intrigue and buzz it has created is what flipped our launch model from being a push strategy to a pull strategy."
~ Sherry Jhawar, VP Marketing, EOS
VISTA research on the print campaign shows that it is exceeding norms across key take action measures, significant for a completely new brand: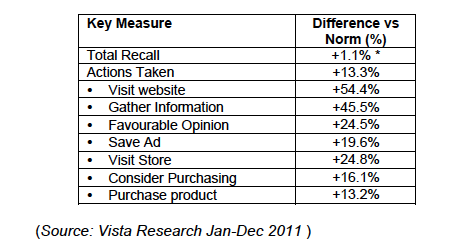 The Recall scores are extraordinarily good, because the norm for this measure is significantly influenced by the GRPs of campaigns of the largest brands in the category. We exceeded norms, despite the lack of budget.
"EOS lip balm" is the most searched term on Google for terms that include lip balm by a factor of 10 to 1 (second most searched term is "best lip balm") (Source: Google Analytics)
Fans of the official Facebook page have grown from 50 at launch (friends & family) to

over 500,000 engaged Facebook fans,

who love EOS. (Source: EOS Facebook fan page)
Fans have created over

6,000 YouTube videos

advocating the EOS lip balm. (Source: YouTube)
The sampling campaign expanded the EOS database from 1,500 brand fans to 60,000 who want to stay in touch with EOS (Source: Client data)
PR-driven editorial coverage in beauty magazines and via bloggers has totalled

over a blllion earned media impressions!

(Source: Client PR Agency data)
ii. Customer Success
Consumer momentum has translated into Customer confidence!
The strong brand campaign has been a key enabler for EOS to grow its distribution across the key national retail chains including Wal-mart, CVS, Target. Points of distribution (aggregate of # of skus in each retail store chain x # of stores in each retail chain) have grown six-fold, from 25,000 at launch to over 750,000. (Source: Client data)
b)Excluding Other Factors
Spending Levels:
During its launch year, EOS had 1/12th the investment of the most recent entrant to the category. This ratio continued in the second year. (Source: client data)
Pricing:
EOS unit price of $3.49 is consistent with category leaders
Distribution Changes:
EOS has grown its distribution over this period and now has the same as its competitors. However, as a new independent brand, that growth has been at a slower pace than if it were an established multinational brand. They have had to wait for annual store set changes vs. catapulting in.
Unusual Promotional Activity:
EOS had no promotional activity whatsoever.
Other Potential Causes:
There are no other potential causes.
Make sure you print before the entry deadline as you will not be able to return to this page after the deadline.